Boys basketball ratings, 2/13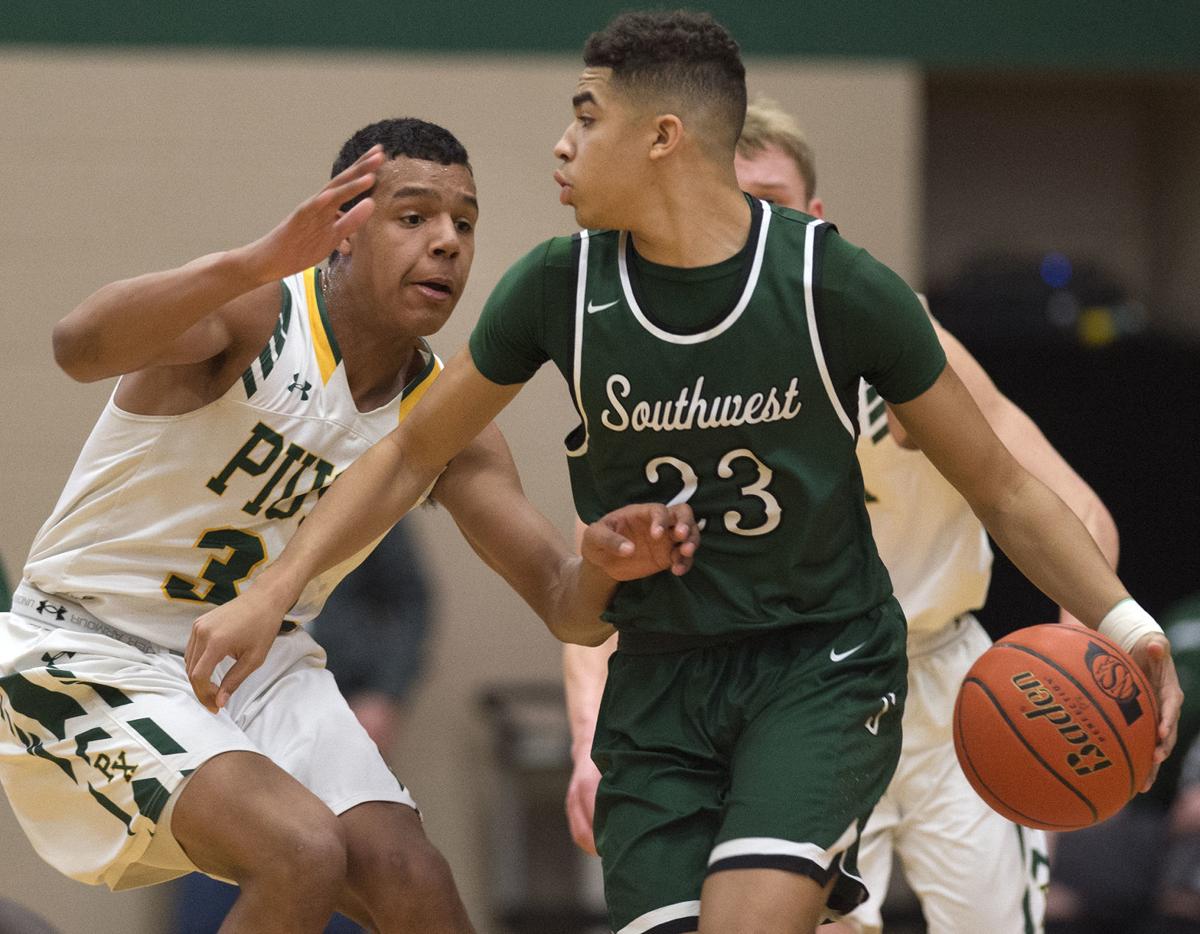 (Records through Saturday)
1. Creighton Prep (19-1) ; 1
2. Lincoln East (20-1) ; 2
3. Omaha Central (19-4) ; 3
4. Bellevue West (15-6) ; 4
5. Millard South (15-4) ; 5
6. Omaha Bryan (16-4) ; 6
8. Lincoln Southwest (13-8) ; 9
9. Lincoln Pius X (13-8) ; 7
10. Millard North (11-10) ; -
Contenders: Grand Island, Norfolk, Omaha Burke, Papillion-La Vista.
Comments: Lincoln Southwest's victory in the final seconds over Lincoln Pius X and Grand Island's road loss at Norfolk account for this week's changes. Despite a loss earlier this month to Grand Island, Millard North has won five of six and seven of nine with victories over Millard South, Omaha Burke and Omaha Bryan since Christmas. Creighton Prep's game at Rockhurst, Missouri, was canceled because of weather conditions.
Key games: Tuesday – Omaha Burke at Omaha Bryan. Thursday – Millard West at Lincoln North Star. Friday – Lincoln Southwest at Omaha Central, Grand Island at Lincoln Pius X, Kearney at Millard West, Omaha Burke at Omaha Bryan. Saturday – Norfolk at Lincoln East.
1. Omaha Skutt (18-3) ; 4
6. Omaha Roncalli (16-4) ; 6
9. Elkhorn South (10-11) ; 9
Contenders: Scottsbluff, Sidney, Seward, Columbus, Mount Michael Benedictine.
Comments: Skutt's impressive win over previous No. 1 Aurora at the Heartland Hoops Classic and their 10-game winning streak lands the SkyHawks in the top spot. York crawls ahead of Aurora based on its 20-point win over Class A Omaha South in Grand Island on Saturday. Gretna, which was upset Saturday at the Heartland Hoops Classic by C-2 No. 1 Ponca, has a chance to move up significantly in next week's final regular season ratings with road games at Omaha Skutt on Tuesday and Norris on Friday. Crete stays in despite losses to Aurora and Platteview. The ratings do not account for three impact games played Monday — Omaha Skutt at Blair, Beatrice at Aurora and Bennington at Mount Michael Benedictine.
Key games: Tuesday – Gretna at Omaha Skutt. Friday – Gretna at Norris, Columbus at Platteview.
Class C-1 (Record) ; Pvs.
2. GI Central Catholic (16-6) ; 4
5. Lincoln Christian (15-6) ; 5
7. Logan View-S-S (19-3) ; 8
8. Omaha Concordia (12-9) ; 6
9. North Bend Central (18-3) ; 9
Contenders: Bishop Neumann, Boys Town, Adams Central, Milford, Auburn, Gordon-Rushville, Boone Central/Newman Grove, St. Paul.
Comments: Two Heartland Hoops Classic results — Grand Island Central Catholic prevailing over Winnebago and C-2 No. 2 Hastings St. Cecilia's decisive win over O'Neill — shake up the top four. Omaha Concordia has lost four straight, the last three to Class B schools, so a drop was in order. Concordia's earlier win this season over No. 9 North Bend Central keeps the slippage at a minimum, however. Neumann exits after a loss to D-1 No. 3 Lourdes Central Catholic, which allows Cozad to move in. Neumann has a chance to return to the top 10 with a home game against Lincoln Christian on Friday.
Key games: Thursday – McCook at Cozad. Friday – Lincoln Christian at Bishop Neumann, Grand Island Central Catholic at St. Paul, O'Neill at Battle Creek, Boys Town at Lincoln Lutheran. Saturday – Elmwood-Murdock at Wahoo.
Class C-2 (Record) ; Pvs.
2. Hastings St. Cecilia (18-3) ; 2
5. Elmwood-Murdock (17-2) ; 7
7. Battle Creek (17-5) ; 9
8. Lutheran High NE (16-4) ; 8
9. South Loup (18-2) ; 10
Contenders: Arcadia-Loup City, Oakland-Craig, Sutton, Ravenna, Hartington Cedar Catholic, Wisner-Pilger, Amherst, Dundy County-Stratton, Cambridge, Doniphan-Trumbull.
Comments: This class shined at the Heartland Hoops Classic as Ponca beat B No. 8 Gretna, Hastings St. Cecilia downed C-1 No. 3 O'Neill and Yutan's win over South Loup was an entertaining, well-played game. BRLD moves up after a win over C-1 No. 7 Logan View-Scribner-Snyder, while Arcadia-Loup City, the Lou-Platte Conference Tournament champions two weeks ago, falls completely out after losses to a pair of unranked teams — Ansley-Litchfield and 4-17 Kearney Catholic. Centennial and Freeman are punished slightly for losses to Aquinas and D-1 No. 5 Johnson-Brock, respectively.
Key games: Friday – Ponca at Creighton, Centura at Hastings St. Cecilia, Elmwood-Murdock at Louisville, Howells-Dodge at Lutheran High Northeast.
Class D-1 (Record) ; Pvs.
5. Johnson-Brock (18-5) ; 6
10. Tri County (16-6) ; 9
Contenders: Fullerton, Nebraska Lutheran, Overton, Twin Loup, Arapahoe, Randolph, Clearwater-Orchard.
Comments: Deshler vaults into the top 10 after a win over Heartland. Lourdes is rewarded for its win over C-1 Bishop Neumann in a game between a pair of two-time defending state champions, while Johnson-Brock slides up a spot for beating C-2 No. 10 Freeman.
Key games: Friday – Paxton at North Platte St. Pat's, Johnson-Brock at Mead. Saturday – Falls City Sacred Heart at Lourdes Central Catholic.
Class D-2 (Record) ; Pvs.
1. Falls City SH (20-1) ; 1
4. Exeter-Milligan (18-5) ; 4
6. Parkview Christian (12-9) ; 6
7. Humphrey St. Francis (15-7) ; 7
Contenders: CWC, Wauneta-Palisade, Wynot, Wilcox-Hildreth.
Comments: The No. 1 vs. No. 1 matchup between Sacred Heart and Missouri Class 1 No. 1 North Andrew never happened last week because of weather. The Irish, however, did beat Highland-Doniphan West, the No. 2 team in Kansas 1A. Everything went according to form with the top 10 teams, so there are no changes, although the margin by which Parkview Christian lost to C-1 No. 5 Lincoln Christian (45 points) was a little surprising. Parkview played C-1 No. 9 North Bend Central to a one-point game and only lost to C-1 contender Boys Town (a team that beat Lincoln Christian earlier) by two points.
Key games: Friday – Central Valley at Riverside, Giltner at McCool Junction, Mullen at Twin Loup.