Counseling Affiliates of Nebraska, LLC
1550 South 70th Street
Suite 101
Lincoln
,
NE
68506
Last Updated: August 10, 2017
About Counseling Affiliates of Nebraska, LLC

Our clinic is warm, inviting, and staffed by experienced professionals who are committed to providing high quality services. We are located in a pleasant and private setting and offer a wide range of counseling and evaluation services for adults, adolescents, and older children. We have flexible scheduling to meet your needs, including evening and weekend appointments. We accept most insurance, including Medicaid and Medicare. Each of our staff members are preferred providers for most insurance plans.

More About Us
---
Mary Paine, Ph.D.
The job of assisting individuals who come to me for help is one that I take very seriously. I love my chosen profession and feel privileged to help individuals, couples, and families with their problems and concerns. My treatment approach is individualized and flexible because life is complicated and so are people. My style is active, engaged, and down to earth. I have 20 years of experience assessing and treating a broad range of mental health issues ranging from mild to severe in outpatient and inpatient settings.

I have worked extensively with sexual abuse victims of all ages and have published articles in this area, including conducting research on factors that influence children to self-disclose sexual abuse. I have over 20 years training and experience assessing and treating adult sexual offenders in inpatient, outpatient, and correctional settings. I have worked extensively with parents and youth involved in the Juvenile Court system. I am recognized by Nebraska courts as an expert witness in the areas of sexual victimization and sexual offenders. I have performed hundreds of psychosexual evaluations/ sex offender risk assessments; general risk assessments; and civil commitment evaluations. I have also conducted many parenting assessments, assessments related to custody and visitation, and psychological evaluations.


Nicholas Giles, Psy. D
Dr. Nicholas Giles is a licensed psychologist in Nebraska and Colorado with over 10 years of experience in the field of mental health. He holds a Doctor of Psychology degree and a Masters degree in Forensic Psychology. He is clinically and forensically trained to provide a variety of treatment and assessment services. He works with adolescents, adults, couples, and families who are seeking resolution to life's problems.
Dr. Giles's clinical experiences span a variety of settings, including forensic, community mental health, rural, non-profit, and psychiatric hospital. He is well versed in cognitive behavioral interventions, crisis management, and evidence based practices. His therapeutic style is one of respect, consideration, and understanding for the courage it can take to sit on the edge of our comfort zone and find the path to change. Regardless of whether someone volunteers or is court ordered to attend treatment, Dr. Giles believes that each person has unique experiences and strength's that can be built upon to improve their quality of life.


Jessica Stolley, LMHP, PLADC
I am an enthusiastic therapist with a direct yet empathetic approach. I have worked with individuals of all ages, couples, and families, with a special knack for adolescent behavior issues (e.g., cutting, academic performance, depression, anxiety). I have worked with clients who suffer from a spectrum of mental health issues, including bipolar and borderline personality disorders, depression, anxiety, addictions, and relationship issues (e.g., parent-child, couples). I also have experience with sex offenders and individuals with antisocial personality disorder.
If you are looking for a new and refreshing approach, I welcome the opportunity to work and grow with you!


We offer a wide range of hours and also offer Saturday appointments.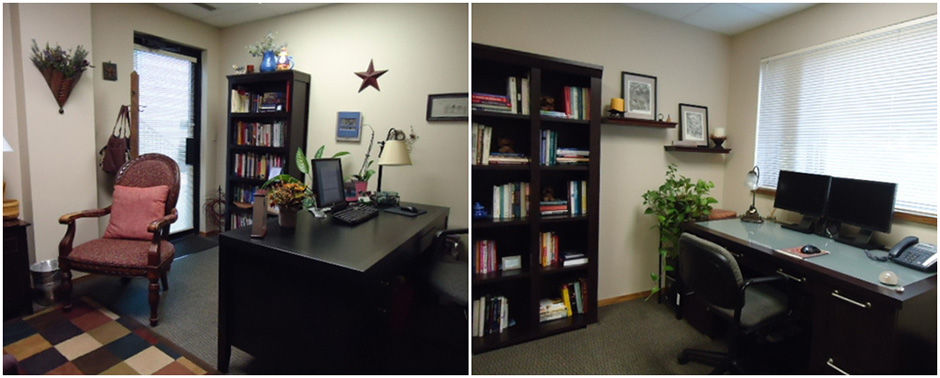 Accepts:

We offer a sliding fee on a case-by-case basis