Lincoln is poised to grow farther east in a big way.
Two large development projects are being proposed east of 84th Street, taking advantage of city sewer projects in the Stevens Creek watershed basin.
One, a new residential development that would extend the city limits all the way to 112th Street north of O Street, received unanimous initial approval from the Lincoln-Lancaster County Planning Commission on Wednesday. The project must still be approved by the City Council.
Called Dominion at Stevens Creek, the development is planned to have 433 homes and town homes on about 154 acres on land that's generally bordered by O, Vine, 104th and 112th streets.
The development would be phased, beginning with 74 homes, the first of which likely wouldn't be built until early 2019, said Mike Eckert of Civil Design Group.
The other major development, called Wandering Creek, would add hundreds of homes and apartments along with commercial development near 84th and Van Dorn streets north of the Firethorn neighborhood.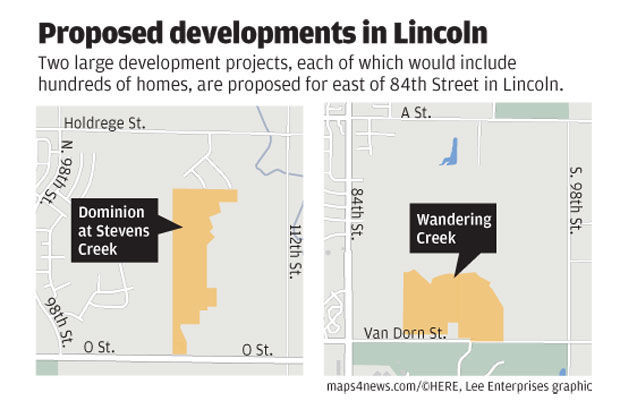 Residents of a neighboring subdivision showed up in droves to Wednesday's Planning Commission meeting to oppose the Dominion at Stevens Creek project, largely because traffic from the planned development would go through their neighborhood.
The area, Sky Ranch Acres, was built as a rural acreage subdivision in the 1970s, but the city has grown out to it. It was annexed into the city limits at its own request in 2012.
Residents there are concerned about additional traffic coming through their neighborhood, especially construction equipment.
The developers of Dominion at Stevens Creek had originally proposed connecting to two streets in Sky Ranch Acres for construction traffic, but changed that plan after hearing from neighbors. They also agreed to take initial access from the neighborhood into the Waterford Estates development to the west until all 74 of the first-phase homes are completed.
Until that happens, they agreed to barricade the streets going into Sky Ranch Acres, to prevent anyone from driving through that neighborhood.
The city requires neighborhoods to connect with each other, so at some point, roads will have to be extended to connect the two developments.
Traffic was the concern expressed by most Sky Ranch Acres residents who testified Wednesday.
Andrea Howell said the roads in Sky Ranch Acres are too narrow, and there are no sidewalks, which would make it unsafe for children in the neighborhood.
"It's county roads that are not made for this traffic," she said. "It's a huge safety risk."
Bill Austin, an attorney representing the Sky Ranch Acres neighborhood association, asked the Planning Commission to delay a decision on the project for at least a month, to give neighbors and the developer more time to work out alternative compromises.
Mark Hunzeker, the developer's attorney, said his client did not want a delay, especially with City Council meetings canceled because of the holidays, which could extend the normal time frame for approval by several weeks.
In the end, commissioners unanimously approved an annexation, zoning change and special permit for Dominion at Stevens Creek.
The Wandering Creek project was originally scheduled for a public hearing Wednesday as well, but the developers asked for a delay until the next meeting, Dec. 6.