When the state closes 68th Street to work on the South Beltway in a few years, people traveling between Hickman and Lincoln will have to temporarily find an alternative route.
But two of the more direct routes — 54th Street and 82nd Street — both have stretches of gravel.
The biggest need as construction on the South Beltway approaches is providing alternative access into Hickman, Hickman City Manager Silas Clarke recently told the Lancaster County Board at its budget hearing.
Already, an average of 7,300 cars a day drive on 68th Street north of Hickman, he said.
And Hickman, the fastest-growing community in the state three years in a row, continues to see more homes being built, Clarke said.
Eighty-five homes are planned for Baylor Heights in northwest Hickman, and another 200 homes are to be built in Terrace View on the east side of town, Clarke told county commissioners.
The city has been told 68th Street south of Saltillo Road will likely be closed for two years during the South Beltway construction, Clarke said. And 82nd Street will also be closed for about a year.
The South Beltway project includes rerouting 68th and 82nd streets to meet up with roundabouts planned for Saltillo Road at intersections of 70th and 84th streets.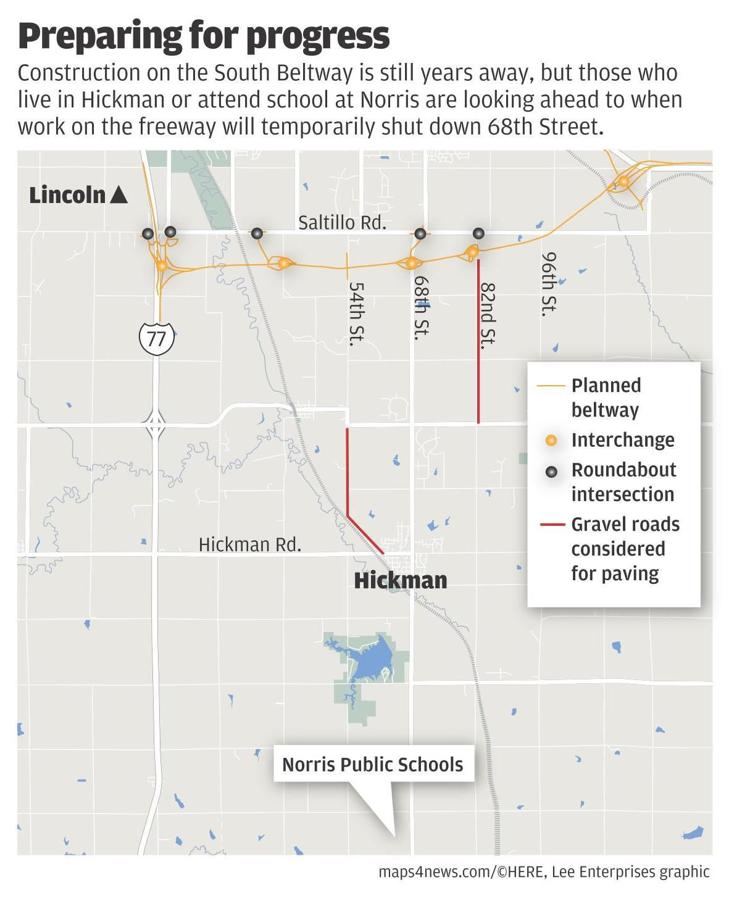 Norris Public School administrators also encouraged the County Board to look at paving all of 54th and 82nd streets in anticipation of the South Beltway construction, and the additional growth the beltway will likely bring south of Lincoln.
The Norris district has 800 children who come in from the north on buses and another 700 high school students who drive or ride with siblings to school, said Brian Maschmann, assistant superintendent.
About 300 staff members and teachers also drive to the school four miles south of Hickman on 68th Street, many commuting from the Lincoln area, Maschmann said.
The majority of the students come from north of the school and the parents of young families moving into the district often work in Lincoln, he said.
Other school activities also bring traffic. For example, last Friday, when Gretna and Norris opened the high school football season, more than 4,500 people showed up, said Maschmann, many coming from the north.
The South Beltway construction, planned to begin in 2020, is not so far away, he added. The time to plan is now.
County road improvements were the major topic during the County Board's budget hearing Tuesday.
In fact, three of the four people speaking supported spending money on improved roads and bridges, providing fuel for County Engineer Pam Dingman's persistent plea for money to improve county roads and bridges.
Dingman received an extra $1 million in county tax dollars in this budget plan to help with roads. She asked for more than $5 million.
The fourth speaker, Coby Mach, president of Lincoln Independent Business Association, encouraged the board to return the windfall — revenue from a reassessment of residential properties — to property taxpayers.
Lancaster County commissioners are expected to approve the budget for county services and a 26.66 cents per $100 in valuation tax rate in early September.
The county expects to collect about 5.5 percent more from property taxes next year.