CITY HALL
City hall column: New 911 dispatcher is cousin to Siri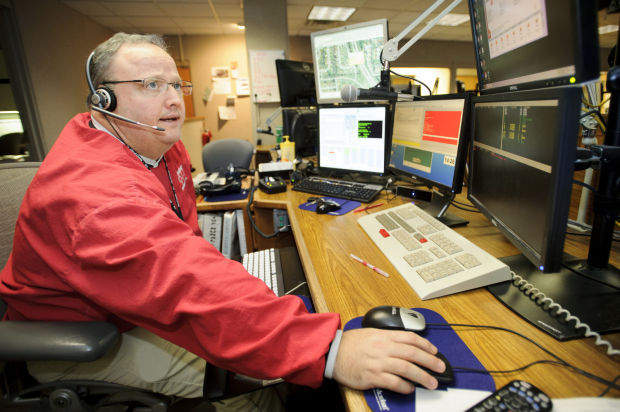 At 10 a.m. Monday a new dispatcher began broadcasting announcements over the city's 911 radio system.
An obviously digitized woman's voice replaced the live dispatchers on some of the medical and fire calls as the city began using its new automated system full time.
The new $610,000 system, purchased using a Federal Emergency Management Agency grant with a 10 percent local match, eases the load and stress on very busy dispatchers and allows the city to send out more than one call at a time, according to Lincoln Fire and Rescue Battalion Chief Eric Jones.
The system also replaces the loud, obnoxious blare that alerts firefighters in stations (and raises blood pressure with its grating noise) with a kinder, gentler tone, called "cardiac friendly alert tone."
Lincoln bought the stock voice created by the company, U.S. Digital Designs. It's a female voice created by the same company that produced the sophisticated Siri for Apple, so it's a high-quality voice, said Jones. 
Her company name is Samantha. And she is not the same voice as the weather alert lady, despite what some think, said Jones.
The department can manipulate her voice so she will pronounce street names correctly. They've had to teach her to say "Britney" for Bretigne Drive. She couldn't pronounce Chautauqua or Delphinium without a little coaching. 
The city cannot change Samantha to talk more like Sam or give her an Australian accent like phone users can with their own Siri.
But individuals could pay U.S. Digital Designs for a different voice on their own equipment, said Public Safety Director Tom Casady.
Lincoln is late to this automated dispatch party, said Casady. Most towns our size have had station alerting for some time, he said.
Though people will hear dispatches one at a time on scanner radios, the system allows multiple dispatches to be sent to stations at the same time. 
This allows firefighters and medics to get to the calls more quickly, Jones said.
Zoo expansion plans
Many of the opponents to expanding the Children's Zoo in the Antelope Triangle admit they are on the losing end of this battle.
"It appears that all of the wheels are greased," said Walt Canney during a recent public hearing before the City Council. Canney believes the city is trying to stuff too much into this green triangle bounded by Capital Parkway, A and 27th streets.
"Large animals make larger noises, larger deposits, none of which would be great for that area," said Canney, retired head of the Lincoln Electric System, at the public hearing.
The hearing was Nov. 21. The council is expected to approve the issues at Monday's meeting and zoo leaders are hoping for a unanimous vote. 
Canney said he had a personal interest in the area because of his donations in the Rose Garden. Though the current plan leaves the Rose Garden untouched, Canney is worried about the future.
He is also concerned that an expanded zoo diminishes the visual openness of the triangle, important to the core of the city. Commuters who drive past the Antelope Triangle are also park users, twice a day, he said.
Right now this area "is the nicest gateway to Lincoln," he said.
Turning right, the new signal
Before all cars came equipped with turn signals, drivers used hand signals. 
Left turn -- driver puts left arm straight out the window.
Right turn -- driver puts left arm out the window, with arm bent upward.
Those were the turn signals for bikes also.
But in recent years cyclists have been signaling a right turn with the right arm extended and pointing.
Now that signal will be officially allowed. The right arm signal is among the changes to the city's bicycle ordinance that will be discussed at a City Council public hearing on Monday.
The proposed city code dealing with bikes adds electric bikes to the bike definition, allowing electric bicycles that can reach up to 20 mph on level ground to use the trails and bikeways, and sidewalks in residential areas.
The state added this definition several years ago, and the city is following that lead, according to David Cary, director of the city-county Planning Department.
The number of electric bikes has grown over recent years and with an aging population there will be more in the future, he said.
For older people, or people with some physical limitations, the motor can kick in on hills, he pointed out.
Electric bikes that go faster than 20 mph, and bicycles with attached lawn mower motors -- often referred to as DUI bikes -- will not be legal on trails.
With walkers and bikes using the same trail, "that speed differential does become a concern," said Cary.
The proposed ordinance also allows skateboards on downtown sidewalks, but the prohibition against bikes on downtown sidewalks will continue.
"Skateboards go slower (than bikes) and quite honestly you can hear them coming," said Cary.
"And we don't want them in the streets."
The proposal also prohibits using a bicycle, skateboard or scooter in a careless, reckless or negligent manner.
For skateboards that includes riding them on "surfaces not designed for the conveyance." So skateboarders can be arrested for trick riding on benches, walls, railings and stairs.