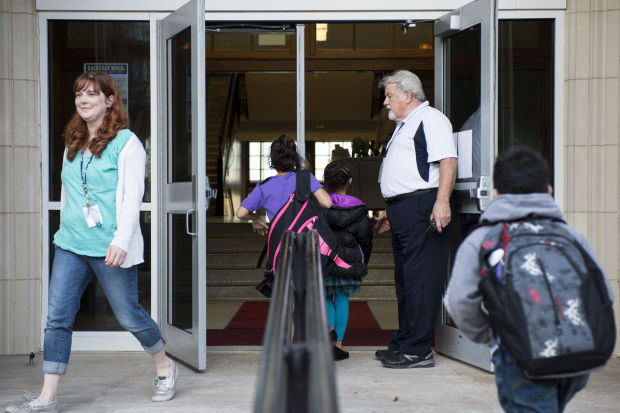 Thank you, to the secretary at a small, rural school in northern California, who heard gunshots Tuesday morning and acted.
Her split decision to rush nearly 100 students on the playground inside and lock the doors saved Rancho Tehama Elementary from becoming the sort of tragedy that seared Sandy Hook Elementary into our collective memories five years earlier.
Kevin Neal killed five people Tuesday — starting with his wife. Gunfire injured one student at the school, and others were wounded by glass shattered by bullets he sprayed at the school.
But he couldn't get in, and he got frustrated. And left.
"It's monumental that that school went into lockdown," an assistant sheriff in Tehama County told the Washington Post. "I really, truly believe that we would have had a horrific bloodbath in that school if that school hadn't taken the action when they did."
These are words most parents of school-age students in Lincoln know, descriptions that come into their email inboxes now and then.
So far, those words represent precautions and practice — information about drills, or precautions schools have taken to keep students safe. They also are part of broad-based security system honed by experience across the nation.
School security isn't new. At the height of the Cold War, students did "duck and cover" drills in case of a nuclear attack. For years, state law has required drills for fires and tornadoes.
Today — 18 years after two students opened fire at their high school in Columbine, Colorado, and killed 13 — schools also practice lockdowns and lockouts.
The words are part of an emergency protocol that Joe Wright began at LPS when he became the district's second director of security in 2013.
The procedures — which replaced the old "code red" — are based on a series of simple directions and a common language between school staff and police that everybody understands and can remember in a crisis.
Lockout means staff brings kids inside and locks all the doors to keep a potential threat out, and school continues uninterrupted.
Lockdown means the threat is inside. Students go into their classrooms — and out of sight. Staff locks classroom doors, turns off the lights, makes sure everyone is quiet and huddled in the "blind spots" in a classroom away from interior and exterior windows.
Each classroom door has a magnet shaped like a bookmark that sits over the door latch to keep it unlocked. In an emergency, teachers pull the magnet out and the doors automatically lock, Wright said, so people don't have to fumble with keys.
When he started, schools across the nation had begun to institute similar protocols, he said.
They're intended to protect students from any threat or crisis, not just gun violence. A school could go into a modified lockdown, for instance, to keep students from seeing a classmate suffering a medical crisis.
But the sort of threat that makes headlines is real.
Everytown For Gun Safety, a pro gun-control group created in the wake of the Sandy Hook shooting, records every incident in which a firearm is discharged inside a school building or on school grounds (including colleges), even when the discharge is accidental. 
So far this year, it has recorded 46 incidents.
In a narrower definition, the FBI tracked 220 "active shooter" incidents from 2006-2016.
Of those, 48 occurred in schools, 32 of those at K-12 institutions, including Millard South High School in 2012, when a student fatally shot an assistant principal and wounded the principal.
Domestic violence is related to more than half the mass shootings, the group found, and domestic violence is Wright's biggest worry. 
District security officials spend the most time on that issue, he said, working with moms who have safety plans in place against their abusers, and with those who have protection orders or custody issues. 
LPS's focus on increased security wasn't marked by the prevalence of school shootings. In 2005, a man walked into Arnold Elementary and sexually assaulted a student in the bathroom, prompting the district to invest $1.2 million to hire entrance monitors to record and check in all visitors.
This year, the district budgeted $3.2 million for security, including entrance monitors; campus security officers and school resource officers at high schools; district security staff, security card access and radios.
Today, all school doors but one are locked, cameras are mounted in high schools, and large numbers above each door allow police to easily identify where a threat might be occurring. 
Since 2006, LPS has spent well more than $3 million to create secured entrances at all schools that block visitors from going forward until they're checked in.
Wright also has a system in place to assess possible threats: identifying situations and behaviors,  and intervening before they turn violent. 
"The idea is to get way in front of that day," he said. "It's like crime prevention, really."
The district's system of encouraging positive behavior in students also helps, he said.
In a broad sense, all the procedures and protocols create a school climate that discourages the idea of violence, Wright said.
"You create a climate where it's understood, if you come into a school you're welcome, but there's a system you have to follow."