Even as enrollment has surged by more than 5,000 students over the past five years, Lincoln Public Schools continues to boast the lowest ratio of students to teachers among the 10 largest school districts in the state.
In LPS, there's roughly one teacher for every 13 elementary school students and for every 14 secondary students. The ratio is one of the measures of teacher workloads, the amount of individual time a student may get, and during budget season — a district's allocation of resources.
It is figured by dividing the number of students by a district's full-time equivalent teaching positions. While the ratios figured by the Nebraska Department of Education each year include classroom teachers, as well as those who work with small groups, facilitate online classes and coach other teachers, they don't include other certificated staff such as social workers, counselors and school nurses.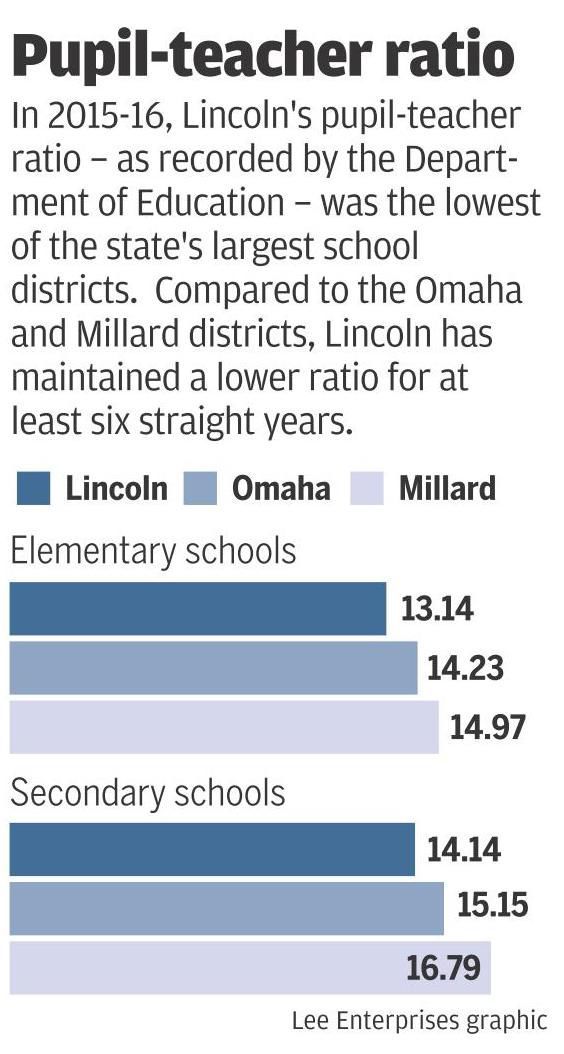 In the most recent statewide data available, Lincoln's ratios — 13.14 elementary students per teacher and 14.14 secondary students per teacher in 2015-16 — were lower than the Omaha, Millard, Papillion-La Vista, Bellevue, Grand Island, Elkhorn, Westside, Kearney and Fremont school districts. LPS, with enrollment of nearly 40,000 students, is the second-largest district behind OPS.
The ratios among the state's 10 largest districts swung to a high of 15.4 elementary students per teacher in Elkhorn and 17.1 secondary students per teacher in Grand Island. You have to drop down to South Sioux City, the state's 14th-largest district, to find an elementary student-to-teacher ratio (12.5) lower than that of LPS. Among secondary students, it's Lexington (13.2), the 19th-largest district, that is first to eclipse Lincoln's mark.
Jane Stavem, LPS associate superintendent of instruction, said the district focuses more on class size than the teacher-pupil ratios. Those ratios aren't an accurate gauge of class size because they take into account all teachers, including those who work with just a few students or collaborate with other teachers, she said.
The ratio "shows we devote our resources to the classroom as our priority," she said. 
Average class size for LPS grade schools was about 21 students in 2016-17 and about 25 at the middle school level.
Programming, too, can affect the teacher-pupil ratio and so it is hard to compare districts, Stavem said.
The growing number of English language learners requires smaller classrooms, as do Lincoln's focus programs and behavioral programs, as well as intervention programs such as Reading Recovery, she said. The district's technology initiative — which includes providing instructional coaches to help teachers as they shift toward digital curriculum and students getting their own Chromebooks — also would lower the ratio. Growing enrollment, and the opening of new schools to handle those students, can also make the ratios fluctuate, she said.
Like most school districts, the bulk of LPS' proposed $420.8 million annual budget goes to salaries and benefits — 88 percent overall for the more than 5,000 people it employs. Of that amount, 62 percent pays for the 3,000-plus teachers, counselors, school nurses and other certificated staff who work with kids.
That means $370.9 million of the proposed budget goes to salaries and benefits — $197.7 million of it to pay salaries for those certificated employees.
There's been some public opposition to the proposed 2017-18 budget because of the district's decision to keep its tax rate at the state-imposed lid of $1.05 in light of a decade-high increase in property valuations. The owner of an average $163,457 home, if faced with a 9 percent increase in property valuation, would pay an additional $185 to LPS next year under the proposed budget, hiking the annual tax bill going to the district to $2,235.
The district-wide increase in property tax revenue will cover nearly all of LPS' proposed 4.6 percent — or $18.3 million — spending increase.
At Westside Community Schools in Omaha, which until recent years had a lower teacher-student ratio than LPS, budget shortfalls that required cutting about $10 million over the past three years have helped push the ratio up. 
In 2010-11, Westside was at 12.2 at the elementary level and 13.5 for secondary students; in 2015-16, it was 14 and 14.4, respectively, for the state's eighth-largest district.
Westside worked to keep budget cuts away from the classroom, said Mark Weichel, assistant superintendent of teaching and learning. But cutting the elementary foreign language program and a gifted teacher likely impacted the ratio, he said. The district also has cut support staff, stopped summer enrichment programs and froze some administrative salaries.
It has also worked to eliminate so-called "bubble" classrooms — student numbers requiring three small classrooms, for example, rather than two classrooms of regular size — something the district can control because nearly a third of its enrollment is option students from other districts, he said.
"When you do have a lot of bubbles, it makes classes small but it's less-efficient with dollars," Weichel said. "I would tell you class size is very important to us and the community and our school board. With the budget conversation we really started with that."
Class sizes may have increased slightly, he said, but the district has gotten more efficient and effective through more personalized learning and doing a better job of engaging kids, he said.
Enrollment at Westside has been relatively flat since 2010-11, growing only 100 students — or 1.6 percent — over five years.
In LPS, much of the proposed increase in spending will pay for increases in salaries and benefits, and additional staff to serve an estimated 950 additional students this fall. The district has seen significant growth — a 13.5 percent increase, or 5,000 students over the past five years — and officials say many of those students are coming with greater needs. 
Still, the level of complexity of LPS students — those who live in poverty, are English language learners, require special-education services or move frequently — are about average among the state's 10 largest districts. In all those categories, three other districts have higher percentages, while six have smaller rates.
LPS falls in the same position in terms of cost-per-pupil: of the 10 largest districts, its $10,842 cost per pupil was fourth-highest in 2015-16.
Stavem said the teacher-student ratio shows LPS has supports in place for its students, though there are still unmet needs. 
"It's an important number in terms of the support our students need and our job is always to advocate for having those supports in place."