Gary Culbert didn't expect to be so grateful this Thanksgiving.
He didn't expect so many people -- so many strangers -- to send him their money, or for nearly two dozen motorcycles to rumble to a stop in front of his house to give him a $1,000 check.
But he also didn't expect his arms and legs and face to be this scarred from flaming vegetable oil, and his family to be burdened with hospital bills.
The 34-year-old handyman rushed into a neighbor's house in the middle of September after a 17-year-old girl had rushed out, needing help putting out a fire on the stove.
She had been trying to make poutine -- a Canadian dish of fried potatoes, cheese curds and gravy -- when the oil in her kettle ignited. She was home alone, her father at church.
Culbert couldn't turn off the burner because the knobs were behind the flames. He tried to remove the pot, but the flames leapt, he flinched and the oil splashed.
Before the ambulance carried him to the burn unit at CHI St. Elizabeth, he'd scrambled to his feet, ran home and returned with an extinguisher to douse the last of the fire.
He spent several days in the hospital, with pig skin temporarily grafted to the worst of his burns. He went back three weeks later so doctors could transplant skin from his scalp to his leg and arm.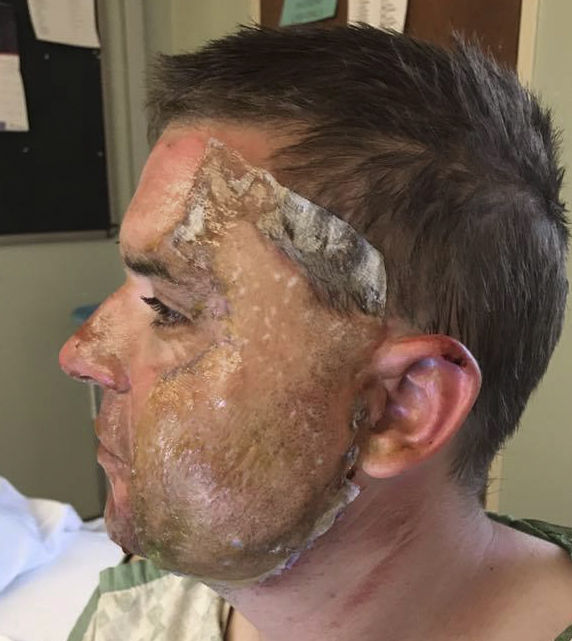 His medical bills kept building, about $80,000 since the fire. His health insurance carried a high deductible, more than $7,000. And even after the neighboring homeowner's insurance company paid $1,000, and the man who rented the house paid another $1,000 from his own pockets, he was still short.
His mother in South Dakota launched an online fundraiser, but it had generated only $180 by the middle of November.
Then she contacted the paper. And after the Journal Star wrote about Culbert's heroism and pain Nov. 12, the donations poured in. More than 30 people gave the first day -- contributing $25 and $50 and $100 at a time, some leaving their names but most remaining anonymous.
Culbert was moved by the generosity. "It feels really nice to see the response of people, the willingness to participate in helping," he said. "It's a huge relief, to take some of that burden off."
Overall, more than 50 people gave more than $3,500 online, and others mailed their donations directly. And then, on Sunday, the Roughriders Motorcycle Group rolled down Culbert's street near 56th and Normal.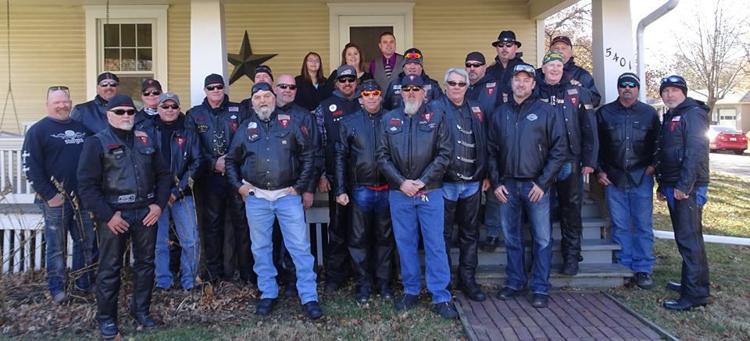 "We raise money and we give it away, that's what we do," said Jeff Barnes, the group's president. "And we ride motorcycles."
Since 1998, the Roughriders have donated more than $300,000 to Lincoln-area people and causes, Barnes said. Helping the Culbert family was an easy decision.
"This story really struck our members because of what Gary did for a neighbor," he said. "It was really nice to see that there's still people out there willing to help out."
More than 20 Roughriders pulled up to Culbert's house to present the check.
"It brought tears to my eyes for a minute to see such a nice group of guys and their willingness to share and help out a family in the community," Culbert said.
He'd known they were coming, but it surprised his wife, Rebekah. Later, she wrote a long thank-you letter to the group, describing the fear of not initially knowing the severity of her husband's burns, her pride in being married to a man willing to risk his life for someone else, her gratitude for the community's generosity.
"There is something very powerful and moving about all of you arriving on your bikes …" she wrote. "You handed us peace of mind, a great feeling of relief, renewed faith that we will be okay, and reminded us what humanity looks like."
The father of the girl frying potatoes was grateful, too. He'd visited Culbert in the hospital several times. He brought food. He didn't have renter's insurance, so he donated $1,000. He felt grief, and appreciation, for what his neighbor went through that night, and the nights since.
"I have a lot of respect for Gary," he said. "We were as saddened as you can imagine."
But all of this attention, and all of this money, is a little difficult for Culbert to reconcile. After the Journal Star story appeared, his friends wondered why he hadn't said anything about his struggles.
He's just never been a beggar, he said. "I'm not really one to go wanting people to bail me out."
But now, as the donations mount, he wants Lincoln to know he's grateful. Even if he will never know all of the donors who helped.
"Some of the people, there's no way to personally thank them. So I just want to say a personal thank you to everybody."