From frozen iguanas falling from trees in Florida to a dad using a cheesesteak to measure his growing son, here's a look at some of the week's strangest headlines from around the world.
Kid wit: Dad measures baby's growth with cheesesteaks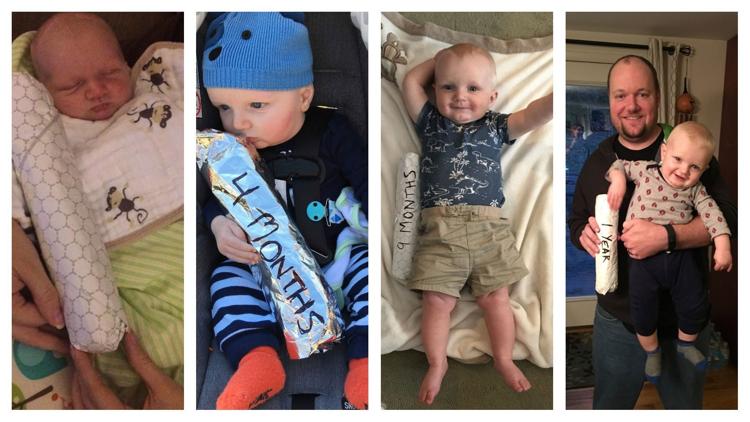 PHILADELPHIA (AP) — A Philadelphia father put the city's signature sandwich to use in a whole new way: measuring his baby's size in cheesesteaks.
Philly.com reports Thursday that computer programmer Brad Williams used a foolproof system he calls "Cheesesteak for Scale" to measure the growth of his son during the child's first year in 2015.
It started when he noticed his 2-week-old, Lucas Royce, was about the same size as a cheesesteak he'd brought home. So Williams snapped a picture of the sandwich next to his newborn and the tradition was born.
Every month for the next year Williams and his wife would buy a cheesesteak to track their growing boy.
He says babies and cheesesteaks are quite similar. He says they are warm and cuddly when wrapped up "but once you unwrap them, expect a huge mess."
It's so cold in Florida, iguanas are falling from trees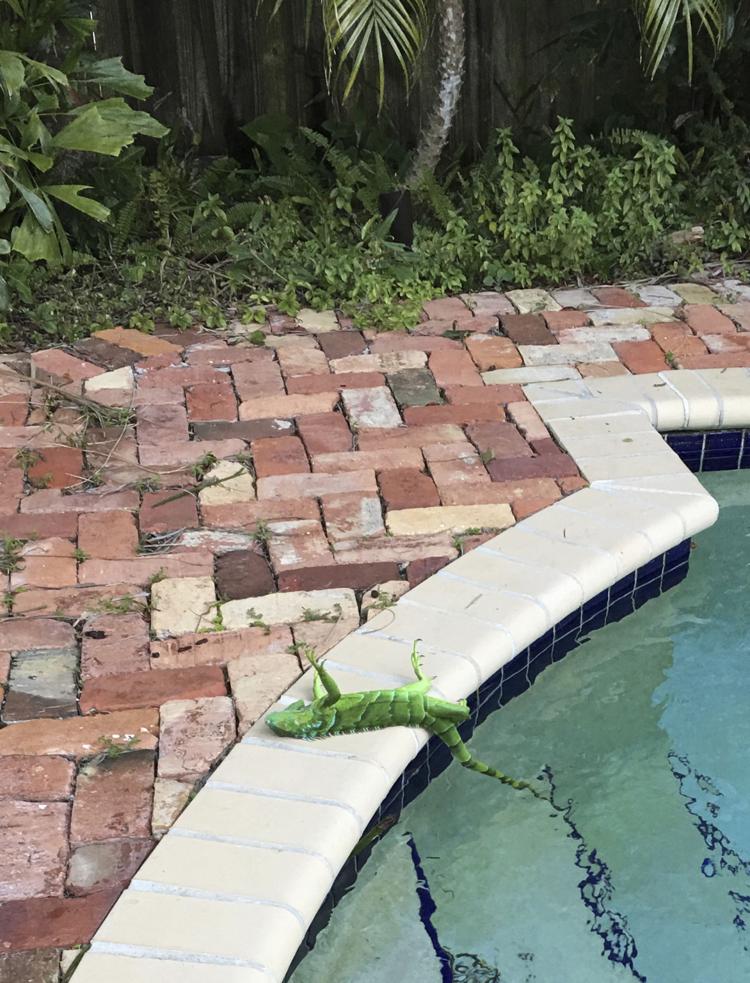 MIAMI BEACH, Fla. (AP) — It's so cold in Florida that iguanas are falling from their perches in suburban trees.
Temperatures dipped below 40 degrees Fahrenheit (5 degrees Celsius) early Thursday in parts of South Florida, according to the National Weather Service in Miami.
That's chilly enough to immobilize green iguanas common in Miami's suburbs.
Palm Beach Post columnist Frank Cerabino tweeted a photograph of an iguana lying belly-up next to his swimming pool. WPEC-TV posted images of an iguana on its back on a Palm Beach County road.
The cold-blooded creatures native to Central and South America start to get sluggish when temperatures fall below 50 degrees (10 degrees Celsius), said Kristen Sommers, who oversees the nonnative fish and wildlife program for the Florida Fish and Wildlife Conservation Commission.
If temperatures drop below that, iguanas freeze up. "It's too cold for them to move," Sommers said.
They're not the only reptiles stunned by this week's cold snap: Sea turtles also stiffen up when temperatures fall. The wildlife commission's biologists have been rescuing cold-stunned sea turtles found floating listlessly on the water or near shore, but no such rescue is planned for iguanas.
Well-meaning residents finding stiffened iguanas are advised to leave them alone, as they may feel threatened and bite once they warm up.
"Don't assume that they're dead," Sommers said.
Green iguanas are an invasive species in Florida known for eating through landscaping and digging burrows that undermine infrastructure. They can grow over 5 feet (1.5 meters) long, and their droppings can be a potential source of salmonella bacteria, which causes food poisoning.
The wildlife commission has begun holding workshops to train homeowners and property managers to trap or manage iguanas. The reptiles may be easier to catch this week, Sommers said.
"This provides an opportunity to capture some, but I'm not sure it's going to be cold enough for long enough to make enough of a difference," she said. "In most cases, they're going to warm back up and move around again, unless they're euthanized."
A two-week cold snap with temperatures below 40 degrees (5 degrees Celsius) in 2010 killed off many iguanas, along with Burmese pythons and other invasive pests that thrive in South Florida's subtropical climate. Those populations have since rebounded.
Elsewhere in Florida, the effects of a brutal winter storm rolling up the East Coast were less exotic. It snowed briefly Wednesday in the state's capital, Tallahassee, for the first time in 28 years.
Fed-up passenger sought fast track on Ryanair wing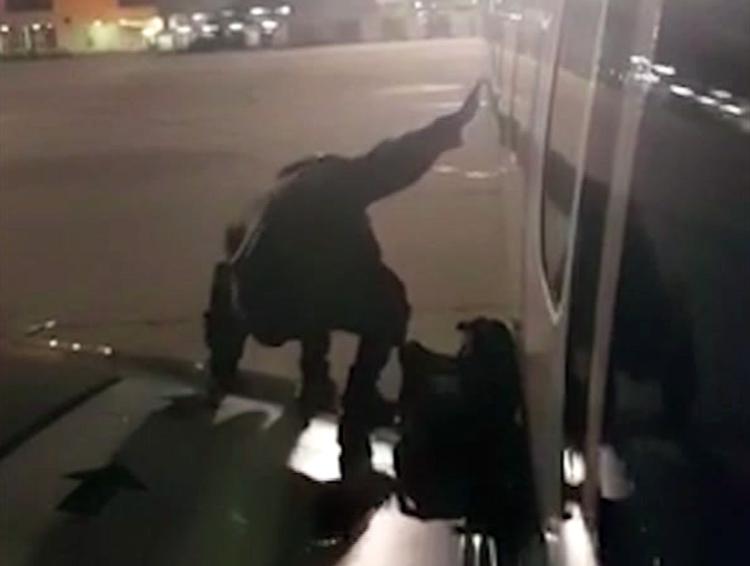 MADRID (AP) — A passenger on a delayed Ryanair flight from London who apparently got fed up waiting to get off a plane after it landed in the southern Spanish city of Malaga surprised fellow passengers by using the emergency exit to jump onto a wing.
The incident on New Year's Day took place 30 minutes after the flight from Stansted Airport landed.
The man, who has not been named but is said to be a non-Spanish citizen, was coaxed back onto the plane while police were called.
Fellow passenger Fernando del Valle Villalobos, who videoed the incident, said he heard the man say he got fed up waiting.
"I was astonished," del Valle, 25, told The Associated Press in a telephone interview.
He said the passengers were standing in the aisle waiting to get off the plane when the man "very calmly asked permission to get past, opened the emergency exit, looked out, saw the wing, went back for his back-pack."
Later, he said the captain came out and asked the man why he had done it and del Valle heard him say clearly that he was sick of waiting inside. The passengers, except the man in question, were kept a further 15 minutes on the plane before being let off.
Police said Wednesday that they have opened a complaint against the man for breaching security.
Ryanair said the incident was now in the hands of Spanish authorities.
Russian army demonstrates latest weapon: Cuddly puppies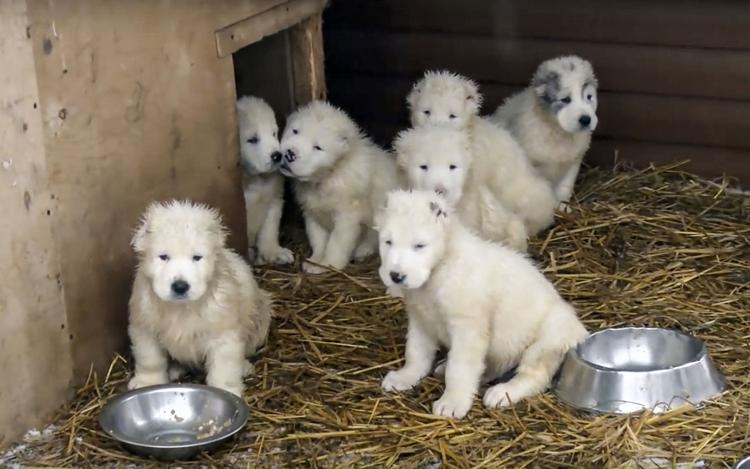 MOSCOW (AP) — The Russian Armed Forces has unveiled its latest cutting-edge weapon in a New Year's greetings video: cuddly puppies.
After a year of showing off its military might in Syria, the Defense Ministry has taken a softer approach in a one-minute video showing dozens of puppies sharing food and cuddling with each other. Older dogs are shown playing with unidentified officers.
In the Chinese calendar, 2018 is the year of the dog, so many Russians are using dogs in their holiday greetings this season.
Over 3,000 dogs are employed in the Russian armed forces.
Dogs from the 470th Dog Breeding Center outside Moscow are among the most decorated in Russia. The center won an international competition last summer against the canine forces of Belarus, Egypt, Iran and Uzbekistan.
Half-ton butter sculpture unveiled at Pennsylvania Farm Show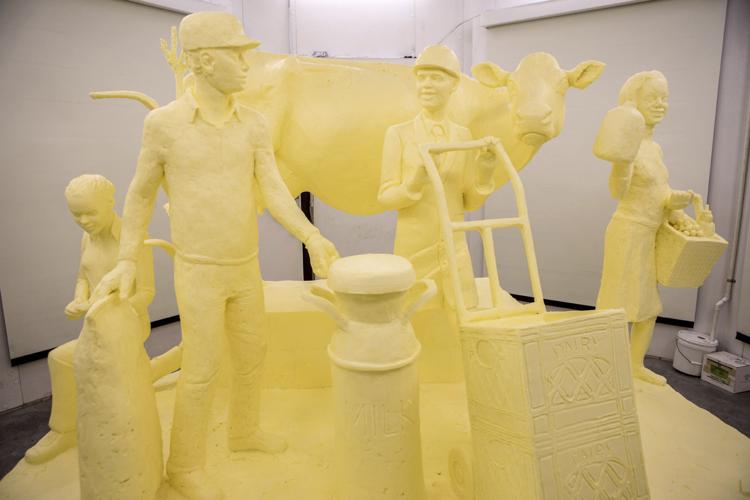 HARRISBURG, Pa. (AP) — A half-ton (0.45 metric tons) of butter has been transformed into a sculpture celebrating Pennsylvania's dairy industry and heralding the start of the state's 102nd Farm Show.
Agriculture Secretary Russell Redding says the sculpture unveiled Thursday highlights the careers and roles the dairy industry plays in the state.
The sculpture features renderings of a cow and a farmer, an agronomist, a milk processor and a shopper with a basket full of products.
The butter came from waste scrap butter unsuitable for human consumption. After the show the sculpture will be taken to a farm and turned into energy in a methane digester.
The Pennsylvania Farm Show is the nation's largest indoor agricultural event, featuring 12,000 competitive exhibits, more than 5,200 of which are animal competitions. It runs Saturday to Jan. 13.
Joker the dog survives 8-day airport, city adventure
DANIA BEACH, Fla. (AP) — Joker the dog had one heckuva Christmas adventure.
Joker's owner, Summer Burgos, flew him to Florida on Dec. 21 to live with family while she trains in the Navy. As soon as Burgos' mother-in-law opened the crate at the Fort Lauderdale-Hollywood International Airport, the 2-year-old Canaan bolted past her. For eight days, in a strange city, Joker roamed the streets.
On Christmas Eve, the Sun Sentinel reports that Joker was spotted near some shops in Fort Lauderdale. A few days later, a group of neighbors in Dania Beach finally rescued Joker — about 4 miles (6 kilometers) from the airport.
Using information from his tags, they got in touch with Burgos. Joker got a checkup at a veterinarian's office before going home to Burgos' family, starting another new adventure.
Mummers parade goes on as planned despite bone-chilling cold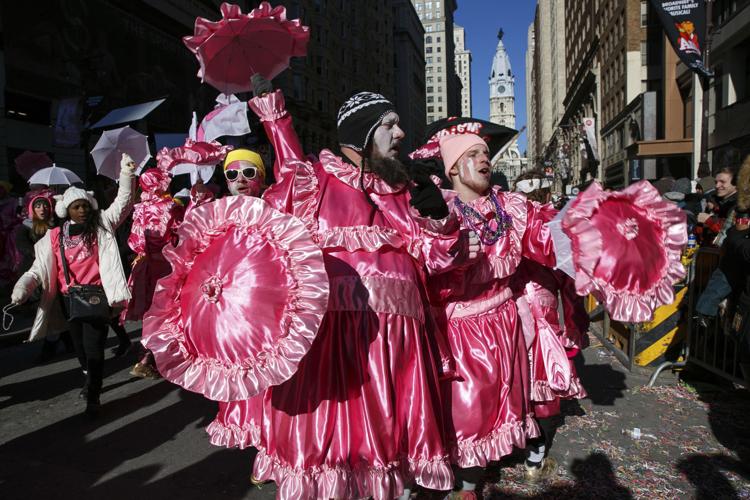 PHILADELPHIA (AP) — Thousands of marchers have braved bone-chilling temperatures and wind chills to take part in Philadelphia's annual Mummers Parade, the oldest continuous folk parade in the country.
Organizers had considered postponing the event because of concerns over the brutal weather conditions. But they voted to go ahead with the New Year's Day parade, which featured performers dressed in colorful costumes adorned with sequins and feathers marching down the city's main north-south thoroughfare.
Temperatures were in the single digits when the parade started. Concerns had been raised the frigid temperatures could be dangerous for parade participants and some instruments used by marching string bands.
Heating tents and warm buses were set up along the route for the Mummers.
Philadelphia has hosted the Mummers Parade since 1901.
Police: Man breaks into evidence undetected, takes back bike
PROVO, Utah (AP) — Provo police say a man broke into the department's evidence room undetected and took back his bike.
Deseret News reported Thursday that the burglary went unnoticed until the person who originally was found with the bike was arrested again and told officers David Elwin Snow was bragging that he "pulled off the crime of the century."
The 37-year-old Snow and his brother had gone to the department on Dec. 18 to retrieve the bike, but since they never reported it stolen they had a hard time verifying it was Snow's bike. Police accuse Snow of stealing it that same night after seeing where it was being stored.
The bike was found Wednesday at Snow's grandmother's house.
Police Sgt. Nisha King said such a heist has never happened at the department.
Rat boards flight at California airport, forces cancellation
OAKLAND, Calif. (AP) — Alaska Airlines is calling in an exterminator after the company says a rat boarded one of its planes at Oakland International Airport in California and forced it to cancel the flight.
The airline says passengers were boarding the Portland, Oregon-bound flight Tuesday when the rat jumped from the jet way onto the plane.
Passengers already on board came off, and the plane was taken out of service. Most of the 110 passengers scheduled to take the flight were rebooked on a later flight to Portland.
Alaska Airlines says it will resume using the plane when a professional exterminator certifies it is rodent-free. The aircraft will also be inspected for any damage.
Judge: Woman unfit to care for horse after DUI while riding
BARTOW, Fla. (AP) — A Florida judge says a sheriff's office must retain custody of a horse whose owner was charged with drunken driving while riding the animal.
In a report by The Ledger, Polk County Judge Sharon Franklin said 53-year-old Donna Byrne was unfit to care for the horse. Franklin also said Byrne must complete treatment for alcohol addiction.
Byrne was arrested Nov. 2 after riding her horse down a highway. Police said her blood-alcohol level twice Florida's legal limit.
Byrne's attorney, Craig Whisenhunt, says he will revisit the custody issue at a Jan. 11 hearing regarding additional pending charges of disorderly intoxication, animal endangerment and culpable negligence.
Whisenhunt questions whether the charges applied to Byrne, saying she had not been disorderly and was a pedestrian under the law.
Police: Man used bank robbery cash to buy engagement ring
MIDDLETOWN, Ohio (AP) — Authorities say a man robbed a bank in Ohio and used the money to buy his fiancee an engagement ring.
The Hamilton-Middletown Journal-News reports 36-year-old Dustin Pedersen has been charged with robbing a Fifth Third Bank branch in Trenton on Dec. 16.
Police say records show that Pedersen spent $4,500 on an engagement ring less than an hour after the robbery and presented it the next day.
A Trenton police detective said in court Wednesday the robbery netted $8,800.
Police say Pedersen became a suspect after a man wearing an identical hat robbed a Butler County bank six days later.
Pedersen has denied robbing any banks, but told police that surveillance photos of the robber look like him.
Pedersen's attorney wasn't immediately available for comment Thursday.