This is a story about the little theater that could, a high school program begun without a stage or a budget or costumes or booster clubs funneling money into grand productions.
It's a program that exists because Rachele Stoops willed it to be so, because the English teacher took her passion for theater and convinced her principal to let her start a theater class, then spread her enthusiasm like crumbs leading to room 205 until 15 students agreed to spend their fourth period there learning lines.
That first year, they performed on a stage borrowed from a middle school, with black fabric stapled across wooden slats to create a backstage and without the benefit of a rehearsal where all the performers were present. That meant some of those students were still holding their scripts.
"But it was more than they'd ever done before, and people were just blown away," said Stoops.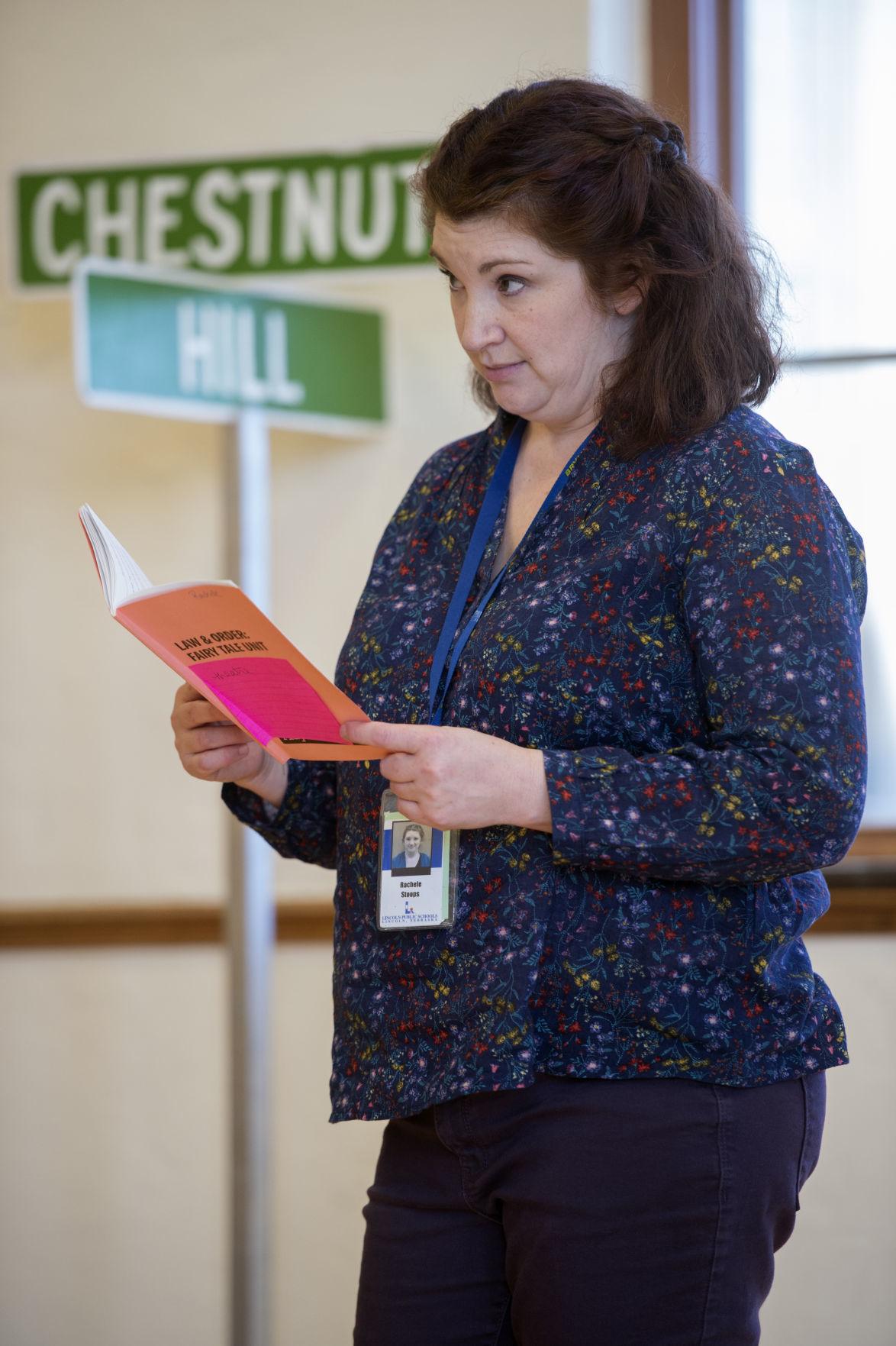 That was three years ago at Bryan Community, Lincoln Public Schools' alternative high school. The Bryan program moved into a portion of the former Hawthorne Elementary School eight years ago, but the stage in the building's gym had been walled off for storage.
That wasn't a big deal, because Bryan didn't have a theater program. It does now.
Today it has a $1,000 budget, a new portable stage Stoops got using grant funds, and money from an award she received this year from the Foundation for Lincoln Public Schools.
Bryan's theater program is beginning to accumulate sets made in art class, and costumes from Goodwill and Amazon.
"It was all from scratch, and I've never done that before," Stoops said. "I've been involved in theater since I was 10, but I've always been part of an established program."
The daughter of a pastor, Stoops grew up in many places, graduating from high school in Iowa and earning a bachelor's degree in theater in South Dakota.
"I was going to be famous," she said. "Instead I got married and had babies."
Her husband's job brought them to Lincoln, and she was involved in a number of theater-related activities as a stay-at-home mom to their three kids.
Then she got divorced and became a single mom attending Doane University whose family survived on child support, her pizza delivery job and food stamps until she earned her teaching certificate.
She landed the job at Bryan before she graduated.
"I didn't know what to expect," she said. "But I loved the people in the interview."
She loved the school, too, loved the students and the close-knit and supportive atmosphere in the program designed for students who haven't been successful at large high schools.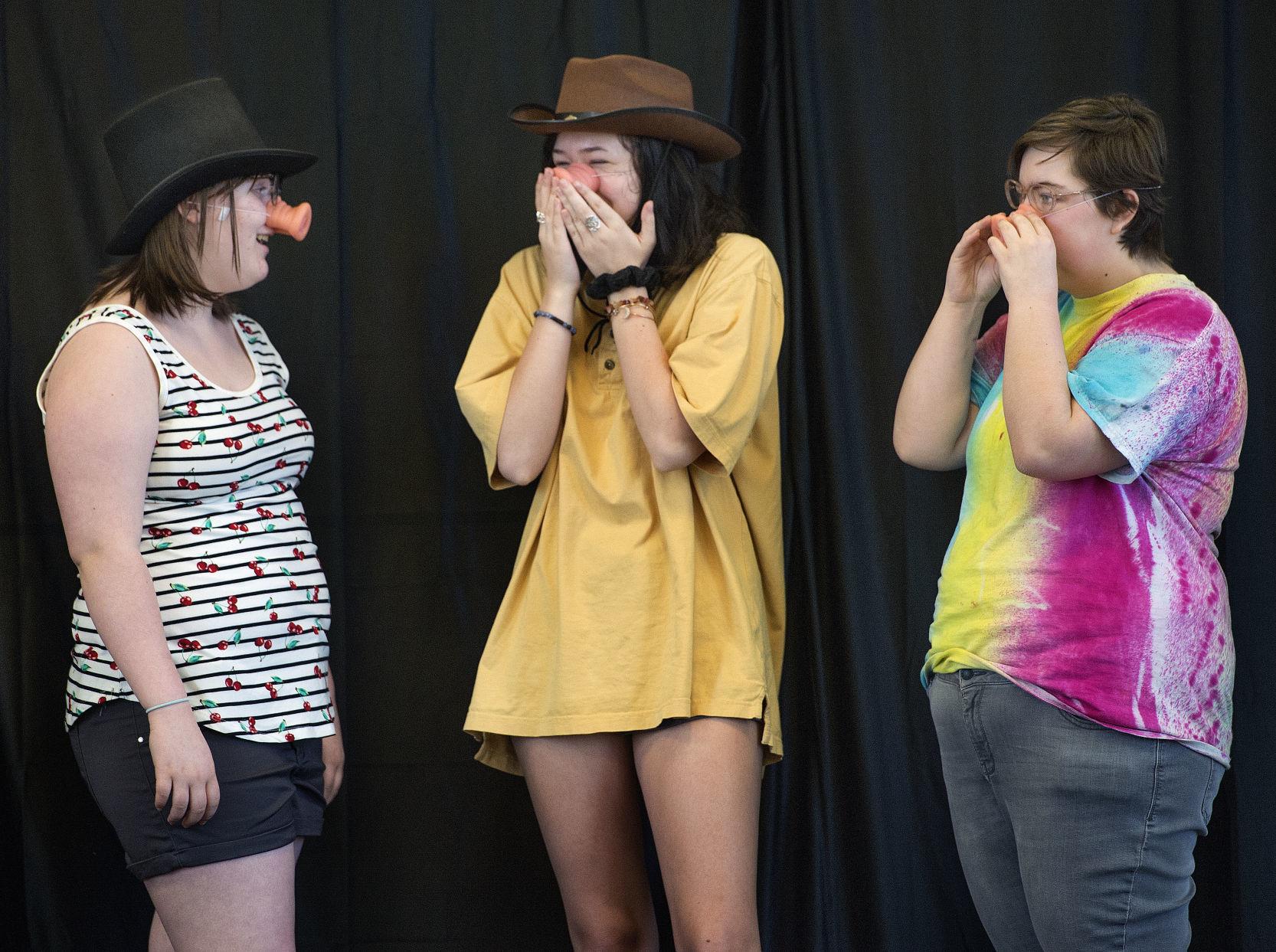 The students all have stories, and Stoops figures she does too. Part of her story is theater, and she wanted it to be part of this new chapter, so she went to her principal.
Many of the students who signed up for theater class had no experience, but Bryan was a safe place to try something new.
Ali Oliveras tried it, even though her social anxiety made the big, crowded halls of Lincoln High School too much. Bryan was different. 
"I knew everybody in school; they're not here to judge," she said. "I thought it was a good chance to try something new. I like Rachele as well, so I thought, let's do it."
Both theater and choir — also taught by Stoops — helped Ali get control of her anxiety, she said. It made her think the dream she'd harbored of being in a musical since she'd seen a local production of "Annie" when she was young wasn't so far-fetched. 
This year, she'll play Peep and Sleepy in the group's production of "Law & Order: Fairy Tale Unit" — a staged episode of the famous crime drama starring a whole host of fairy tale characters. She'll be joined by a number of her fellow actors who have struggled with the same anxiety she does.
Tyler Campbell, a senior, had done some backstage work at East High but at Bryan was willing to try out for an acting part because he didn't worry about what people would say if he messed up.
Mia Smith, a sophomore, said she's proud to see how the students and their teacher built something out of nothing.
"It was really amazing," she said.
Lily McShannon, a sophomore, and Brin Holen, a senior, both were drawn to the theater class because they like Stoops. Holen figured she'd work backstage, then realized they needed her on stage. So she swallowed her fears and took a part.
"I actually enjoy it," she said. "I like the class. There's no judgment."
Cosmo Zinn-Dorf has loved theater for a long time, and the acting he's done in the community translates well onto the Bryan stage, where he'll play detective H.D. (that's Humpty Dumpty) — one of the lead parts in this year's play.
Leila Alohaid, a senior, has been in community theater programs and knew the time involved for most school productions. That's one of the reasons she didn't try out at Southeast but signed up for the class at Bryan.
"We make it work in fourth period," she said.
Unlike at full-sized high schools, theater isn't an extracurricular activity, which means Stoops and her students have to make things work in the 47-minute class time each day. They build their sets during art class.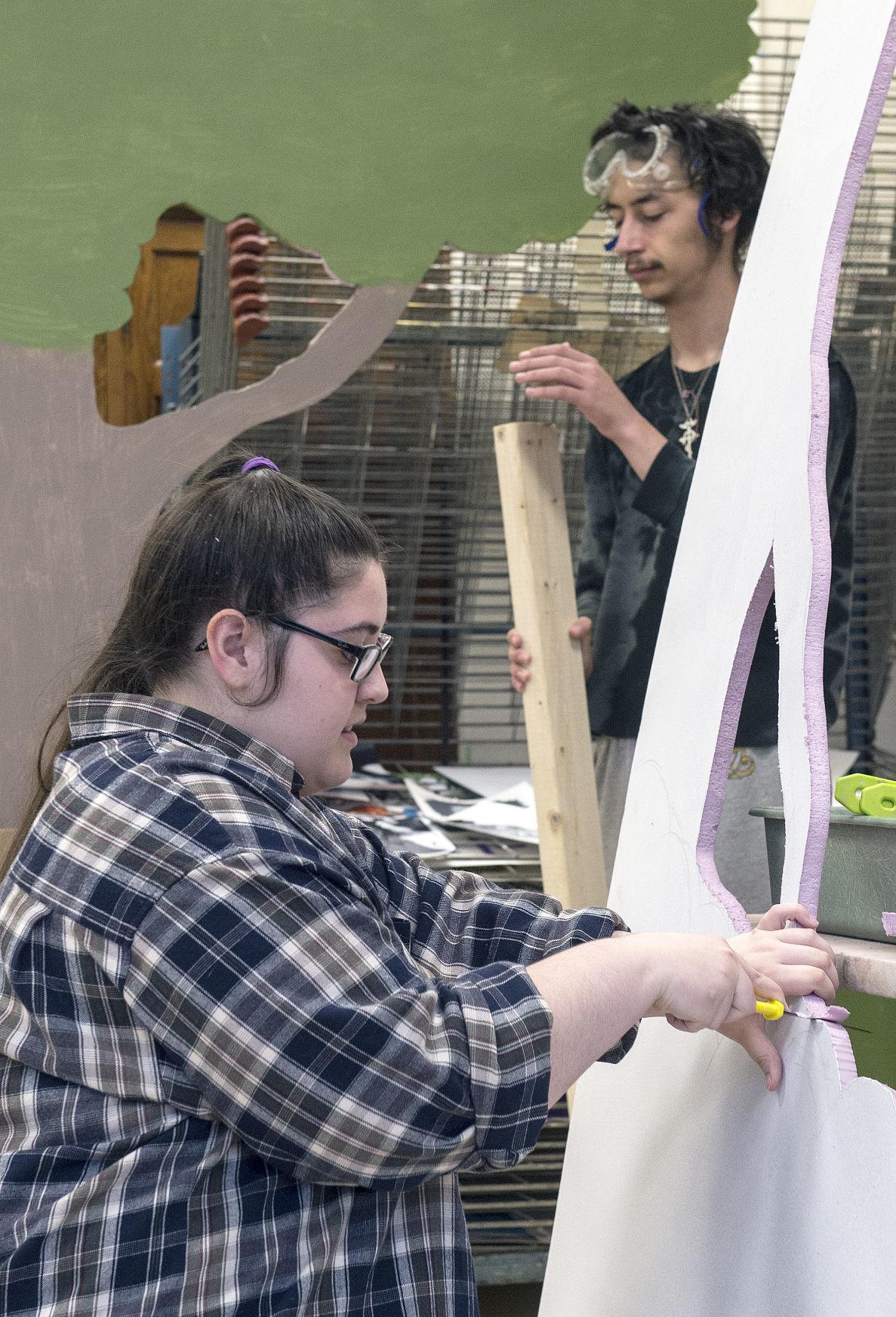 That's a challenge, Stoops said, as is attendance. Students aren't always in class, which can make preparing for a performance tough, though Stoops gets it.
"Kids have a lot of stuff going on in their lives, and (theater) can't be the most important thing," she said.
A week before the upcoming performance, one of the leads ran away. Stoops wasn't sure she'd be back and it was too late for someone else to learn all the lines.
But she was in school Monday, and Stoops is convinced one of the reasons was the play, that she knew it was important, knew Stoops and her classmates were counting on her.
The class is held only second semester now, which makes competing in the state one-act competitions impossible.
Stoops would like to start an after-school club for kids who might want to compete, or hold the theater and art classes as a sort of theater "block" that would give them more time.
She'd really love to knock down the wall so they could use the school's original stage.
Her students know she's got high expectations, and that she loves them, but she realized early on that she had to leave her "director" ego at the door.
Because this is no ordinary program, but it's an important one. 
"I want it to be the best it can be, because I want them to be proud of it," she said.
See photos of the class at Bryan Community school