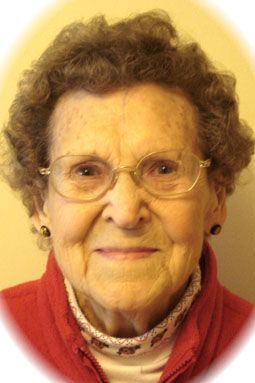 February 2, 1920 - October 9, 2017
Marjorie Carol Nystrom of Hebron, the daughter of Edward and Helen (Meyer) Houser was born February 2, 1920, on a farm near Alexandria. She departed this life Monday, October 9, 2017, at Blue Valley Nursing Home in Hebron at the age of 97 years. On May 8, 1927, she was baptized in the Alexandria Presbyterian Church where she later became a member. After attending rural school at Sandy Knob, District 4, she graduated from Alexandria High School with the class of 1936. She taught three years in rural schools in Thayer County.
She married Rudolph Nystrom on May 27, 1941, in Belleville, Kan. This union was blessed with the birth of one daughter, Cheryl, in 1948. After moving from the farm to Hebron in 1979 she transferred her membership to The First Presbyterian Church in Hebron. She enjoyed reading, playing cards, traveling but most of all spending time with her family. Marge was past president of the V.F.W. Auxiliary, served as an elder and deacon in the church and held various offices with the Presbyterian Women. In 1993, she was presented a pin and Honorary Life membership in the Presbyterian Women U.S.A. through her local church.
She is preceded in death by her husband, Rudolph, daughter, Cheryl Jacobs, Christmas Eve 2009, parents, brothers: Bernard, Erle and wife Lois, and Jack, sisters: Joyce Dittmer and husband Clarence, Adelene at age 11, and an infant sister in 1928 at the time of her mother's death. She is survived by her son-in-law, Kenneth Jacobs of Yukon, Okla., grandson, Kelly Jacobs, Yukon, Okla., and granddaughter, Jennifer and husband Chris Grant of Ardmore, Okla., great-grandchildren: Kyle Jacobs of Midwest City, Okla., Conner and Riley Grant of Ardmore, Okla., sisters-in-law, Darlene Houser of Bruning, a special niece, Evelyn Nystrom, cousins, nieces, nephews and friends.
Funeral services will be at 10:30 a.m. Monday, October 16, at The First Presbyterian Church in Hebron. Officiant Pastor Gail Cross, organist David Cording, congregational hymns "Rock Of Ages", "Amazing Grace", and "How Great Thou Art". Interment at Hebron City Cemetery in Hebron. Book signing from 2 to 7 p.m. on Sunday at Kroll Funeral Home. Memorials to First Presbyterian Church. Condolences may be sent to www.krollfh.com