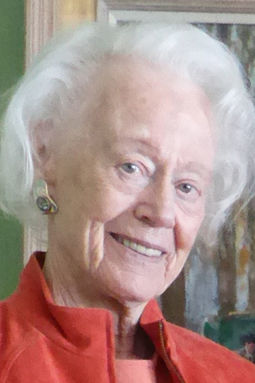 March 10, 1921 - March 7, 2018
Harriet Talbot Steiner Ludwick (Teedee) of Minneapolis, Minnesota, died peacefully at home surrounded by her family on March 7, 2018. The daughter of the late Robert Harris Talbot and Harriet Chapin Talbot of Lincoln, Teedee was born on March 10, 1921. She attended Chateau Groslay in Paris and graduated from the University of Nebraska in 1942, where she was a member of Delta Gamma Sorority and Mortar Board.
She served in support and leadership roles in many community organizations, including The Ripley Foundation, Women's Christian Association, Deep Portage Environmental Learning Center, Minneapolis Junior League, The U of M Arboretum, University of Nebraska, and Westminster Presbyterian Church. She was a member of the Minikahda Country Club and the Minneapolis Club. She especially loved spending summers in Northern Minnesota with family and friends, cooking, traveling, gardening, playing tennis and bridge.
She was pre-deceased by husbands, Lawrence McIvor Steiner in 1963 and William Ernest Ludwick in 2008 and her sister, Nan Ward of Rochester, Minn. Teedee is survived by her daughter Jessie (Gary) Van Ness, son George (Linda) Steiner, grandchildren Gardiner (Cammy) Van Ness, Bradley (Meredith) Van Ness, Chapin (Kate) Van Ness, Lindsey Steiner, Jessie (Kevin) Bollig and 10 great-grandchildren.
Special thanks and gratitude to her caregivers for their attentiveness and loving care.
Memorials in memory of Teedee can be made to: Westminster Presbyterian Church, 1200 Marquette Ave., Mpls 55403, Deep Portage Environmental Learning Center, 2197 Nature Center Drive, Hackensack, MN 56452, or the charity of your choice. A memorial service is planned for 2 p.m. Sunday, March 11, at Westminster Presbyterian Church, 12th St and Marquette, Minneapolis. The service will be live-streamed at www.westminstermpls.org. Church Parking Garage located off Alice Rinville Place. The family invites you to join them for a reception in the Westminster Hall following the service. David Lee Funeral Home Wayzata, 952-473-5577, www.davidleefuneralhome.com