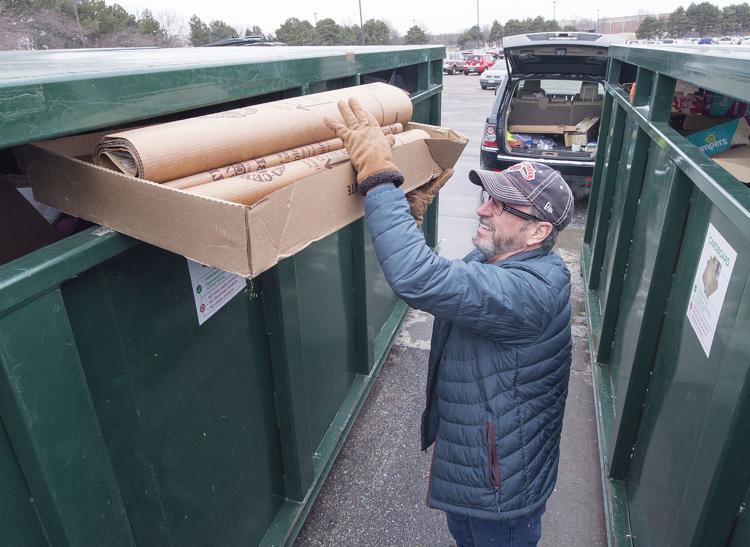 Though the majority of Lincoln residents were ready for the landfill ban on corrugated cardboard that started Sunday, the ban did have its first-week headaches, according to city staff and several refuse companies.
* Local garbage haulers were pulling corrugated cardboard boxes out of garbage totes and leaving them at the curb, with notes from the city, throughout the week.
* Some apartment owners made no provisions for recycling and the tenants were leaving corrugated cardboard in the apartment Dumpsters.
* Local haulers saw a large increase in recycling customers in the month before the ban began and this week. There is such demand the haulers have run out of recycling totes for residences and larger containers for businesses.
Local refuse companies said they were sorting curbside garbage all week and leaving cardboard boxes on the curb, with a post-it note from the city explaining the new ban.
It took operators about an extra hour Monday, the first day of collecting under the ban, to do that extra work, said Steve Hatten with Paragon Sanitation.
That first day, one hauler reported pulling corrugated cardboard out of garbage at about 30 percent of residences, said Gene Hanlon, recycling coordinator for the city. 
"It's a learning curve," said Brian Kurtzer, with D&D Refuse and Recycling.
Some customers are unaware of the new ban on corrugated cardboard at the landfill, a new city ordinance. But others are just seeing how long they can get away with putting cardboard in the trash, he said.
Brad Uribe of Uribe Refuse and Uribe RecycleLink said he's gotten nasty notes from customers whose cardboard was left at the curb. When he calls back, most people understand this is a city ban and the hauler is just the middle man, but they are still angry, he said.
"We are not trying to be the police. We are trying to avoid the fine," Hatten said. Refuse haulers are fined when they bring banned items to the landfill. 
Refuse companies also reported a number of apartments where owners don't provide recycling and residents are leaving corrugated cardboard in Dumpsters.
One apartment owner told Uribe he didn't intend to offer recycling to tenants because he didn't have to under the city ordinance banning corrugated cardboard.
The ordinance bans cardboard from the landfill, but does not require anyone, including apartment owners, to contract for a recycling service. 
"Some of the apartment owners really don't care," Uribe said.
Many apartment owners are now providing for recycling, said Hatten. But owners, particularly at the low-income end, are leaving cardboard recycling up to tenants, he said.
Homeowners and renters can pay for curbside recycling or take corrugated cardboard to one of the city recycling sites. Business owners can make arrangements with a private company for recycling or take corrugated cardboard to one of three private processing companies in the city.
The ban only applies to corrugated cardboard — three layers of paper with a ruffle in the middle — but supporters hope it encourages more people to recycle more items, including other paper, hard-plastic containers and cans.
And that seems to be happening. Uribe said his recycling business had plateaued until last month.
His company had about 400 new customers, many of whom waited to start the new service on April 1, Uribe said.
And his email this week has been filling up with customers who want to add curbside recycling.
Kurtzer said he expects lots of calls in the next few weeks from people who procrastinated in setting up curbside recycling. 
The three refuse and recycling companies that provided information to the Journal Star about the first week of the ban said they've spent thousands on equipment for new recycling business, are scrounging for residential totes and are out of commercial containers.
"Everything is on order. It's going to take some time to get them (business containers)," Uribe said.
It will take people a couple of months to figure out they can't leave cardboard in their trash, Hatten predicted. Residents went through the same learning curve when lawn waste was first banned in 1992, he said. 
Staff has been monitoring the city's free recycling sites daily this week and are seeing more traffic, according to Hanlon.
And the city is seeing very little corrugated cardboard on the garbage loads it's inspected this first week. The haulers have done a very good job of informing their customers, said Donna Garden, assistant director for Public Works and Utilities.
There is still some confusion about what exactly is banned. Corrugated cardboard that is wet at the time of pickup, or has oil or paint on it, or is attached to Styrofoam or wood can be taken to the landfill, Hanlon said.