UNL will pay $1.4 million a year for 'extraordinarily successful program' to attract international students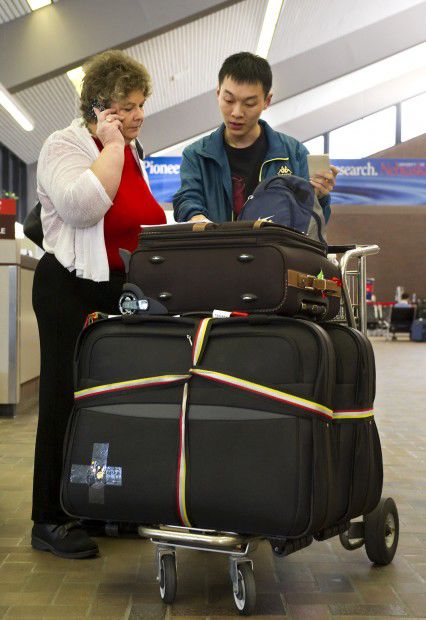 The University of Nebraska-Lincoln spent about $1.4 million over the past two years to grow its presence in countries like India, Brazil, Indonesia and Nepal, where the Husker brand carries little traction.
Using the foothold established by EduCo Global in more than a dozen countries, UNL enrolled about 250 students who otherwise wouldn't have heard of Lincoln or Nebraska, netting an additional $2.1 million in tuition revenue in the process.
On Thursday, the NU Board of Regents extended that partnership five years in an effort to grow the international student population at UNL, as it strives to reach lofty enrollment goals while generating additional revenue during a period of uncertain state appropriations.
The board unanimously approved an annual $1.4 million deal with EduCo to recruit full-time, degree-seeking students to UNL, assist those students with applying and obtaining student visas, and providing them with support services after they enroll.
What started as a pilot program in 2015 has been "extraordinarily successful," NU President Hank Bounds said, as the university finds stiffer competition to draw students from inside the state, across the country and around the world.
"When you look at the competition level for students across the country, it's pretty intense," Bounds told regents. "Clearly, the competition for international students is also intense. Many universities across the country contract with companies that have a presence in countries around the world to recruit for them."
As part of the agreement, UNL splits tuition revenue with EduCo if the firm successfully recruits degree-seeking students to take college courses in Lincoln. Those students are charged the nonresident rate of $747 per credit hour, compared with $237 per credit hour for Nebraska students.
In more detail:
* UNL pays EduCo 16 percent of a student's first-year tuition, and 11 percent of the student's tuition their sophomore, junior and senior years, if that student qualifies for a tuition discount ranging from $2,000 to $12,000 based upon their academic performance.
* Students who do not qualify for the tuition discount trigger higher payments for UNL to EduCo, totaling 50 percent of the first-year tuition, 10 percent in both the sophomore and junior years, and 11 percent of the senior year tuition.
* EduCo receives 40 percent of the tuition for students taking summer courses, and 35 percent of the tuition for international students taking an intensive English program.
Regents said Thursday the contract protected the university while also providing benefits to both partners of the agreement.
"Regardless of what the payment ends up being, our net per international student is significantly more revenue than we get for in-state tuition," said Regent Jim Pillen of Columbus.
UNL does have limited recourse if students recruited by EduCo don't stay in Lincoln. Language in the contract assesses a $25,000 fine to EduCo per percentage point if the retention rate for those students falls below 84 percent, with a $75,000 maximum.
But as part of the agreement with UNL, EduCo must fund one support staff member to be integrated into the university's efforts for every 100 international students successfully recruited — an uncommon service among international recruiting firms.
"A lot of companies don't offer support on the retention end," said Amber Williams, UNL's assistant vice chancellor for academic services and enrollment management.
"Once a student has enrolled, they get them connected to an academic coach and into the university and help them transition into the country."
Attracting more foreign students to UNL will have several benefits, NU administrators and regents said Thursday.
"We want all of our students to have a global experience, but not very many students can go study abroad," Williams said. "Some of that is bringing the world to the university."
The lofty enrollment goal of 32,500 students set by UNL Chancellor Ronnie Green in September will require continued growth of the university's international student community, which has doubled in size over the past decade.
At the same time, the dwindling number of graduates from Nebraska high schools appears to have bottomed out, and projections from one education commission show the number of potential college students should rebound through most of the next decade.
The Western Interstate Commission for Higher Education projects about 25,100 students will graduate from Nebraska high schools in the 2025-26 school year, up from 22,735 in 2015-16, the most recent year when data is available.
At the same time, the number of 18-year-olds in Nebraska will also grow from 24,700 to 27,200, according to estimates from the Center for Public Affairs Research at the University of Nebraska at Omaha.
Across the country, the National Center for Education Statistics estimates 3.7 million high school seniors will receive a diploma in 2025-26, compared with about 3.5 million a decade previously.
The lofty goals university administrators once set in the face of "demographic headwinds," will now have the benefit of an expanding population of young Nebraskans, according to David Drozd, a research coordinator at the UNO center.
"Nebraska has turned a corner," he said. "We were in a bottoming phase in 2015-16, but the number is starting to go upward, which would suggest we will have more Nebraska graduates over the next couple of years."
Williams said UNL will remain committed to Nebraska students even as it works to attract out-of-state and international students to grow the university.
"These are students that would not have been attracted to the university before," she said. "(EduCo) has relationships in areas we don't have and can connect with students who would not have looked at the university any other way."