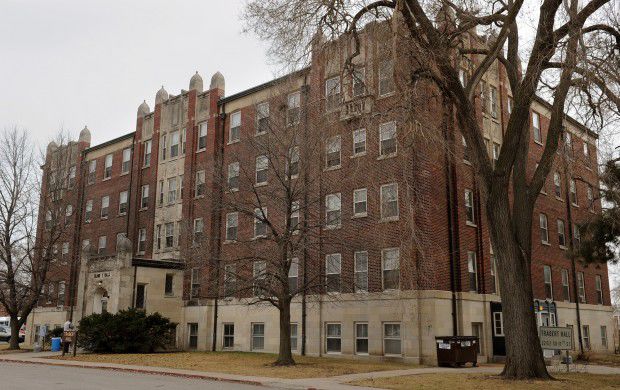 The Trabert Hall decision -- whether to sell the building to a private developer for apartments or to CenterPointe for its work -- has split the Lancaster County Board.
A three-member majority of the board voted to negotiate the sale of Trabert Hall, 2202 S. 11th St., to CenterPointe, a nonprofit agency that works with people with mental illness and addiction problems, to replace an existing office and expand its programs.
Commissioners Roma Amundson, Jennifer Brinkman and Bill Avery said the nonprofit agency's work with low-income people is part of the county's mandated mission to serve the indigent, particularly the health needs of the poor, and helps reduce the jail population by keeping some people out of jail.
But two commissioners think the county should sell the building to Concorde Management & Development, to be turned into apartments for working people.
The apartments, which would rent at below-market rates, would provide more affordable housing for people with jobs, said Commissioners Todd Wiltgen and Deb Schorr.
The county needs the higher sale price, $925,000 to Concorde versus $400,000 to CenterPointe, to help pay for the $1.1 million investment in new offices for the county's emergency management office, the two pointed out.
The office is moving because the city is closing the 233 Building on South 10th Street. The county may have to raise the property tax rate to make up that difference, they said.
And it is debatable whether CenterPointe's work reduces the jail population, said Wiltgen and Schorr, pointing to emails from the directors of the jail and the Community Corrections program.
CenterPointe's management and philosophy isn't a good fit with the criminal justice system, according to Kim Etherton, Community Corrections director. 
CenterPointe's services are not as structured as programs preferred by the criminal justice system.
CenterPointe uses a housing-first model, where individuals are allowed to use substances in their residences while they receive services, Etherton said in an email. In addition, much of the case management is done from offices since staff do not have company vehicles.
Community Corrections had a client whose CenterPointe apartment was uninhabitable and red-tagged "which means the individual hadn't been checked on in a very long time," Etherton said.
One person released to a pretrial Community Corrections program was placed at the People's City Mission until Community Corrections could get the squatters and transients out of her CenterPointe apartment, and there was crack cocaine on the living room table, Etherton's email said.
Clients in CenterPointe's outpatient program are not required to attend programs daily, and when Community Corrections has clients using CenterPointe for mental health services "we find that follow-through is unreliable and so we enter that relationship expecting barriers and plan accordingly," Etherton wrote.
Jail director Brad Johnson said CenterPointe's contention that their expansion could reduce correctional costs by $2 million is "very unlikely."
The jail population would have to be reduced by 55 inmates for an entire year, with a reduction of 32 correctional officers to meet that $2 million threshold, Johnson wrote.
Johnson said he is not opposed to selling Trabert Hall to CenterPointe, but he wants to make sure the County Board's decision is not based on perceived correctional savings.
In an email response after the meeting, Topher Hansen, CenterPointe CEO, provided information to "correct the record." 
CenterPointe's approach is to design a treatment plan tailored to an individual's specific needs, he said.
The housing-first program, where CenterPointe provides a subsidy to about 260 people and has case managers who work to get clients treatment, employment, etc., has significantly reduced homelessness in the community, Hansen said. 
Currently, 55 percent of CenterPointe clients have current or past contact with the criminal justice system. Probation, parole, drug court, corrections, criminal defense attorneys and others make up the agency's list of referral sources, Hansen said.
The $2 million savings was an estimate, based on national estimates, for the entire criminal justice system, not just the jail, Hansen said.
During a Thursday morning discussion of the Trabert Hall decision, Wiltgen unsuccessfully argued the county should get assurances, as part of the sale negotiation, that the agency would provide specific services for the county corrections system. 
"This is a real estate transaction," said Brinkman, in refusing to expand the negotiation discussion.
"This is a $500,000 subsidy," Schorr said, referring to the difference in price.
And if the county is going to subsidize the agency, then "we should quantify what the public purposes are," including the level of services available to inmates leaving the jail or Community Corrections, she said.
The county has spent money in the past year hiring new corrections officers, another deputy sheriff and a part-time investigator for the county attorney's office, Brinkman said.
"We need to counterbalance that by investing in the system that helps keep people out of the correctional system," she said. 
CenterPointe receives about $350,000 in county funds, the most of any agency, said Schorr. 
With this subsidy for the building, there is an assumption that CenterPointe's mission takes precedence over other agencies, including the Food Bank, Center for People in Need, Voices of Hope, City Mission and Cedars, said Schorr. 
Agencies, such as CenterPointe, provide preventative, front-end services, but the county also needs services for the population coming out of jail, said Wiltgen.
The five-story Trabert Hall was originally used as dorms for nursing students before St. Elizabeth Hospital moved to its location on 70th Street.
It has been used for various county offices for almost 50 years but has been empty since adult probation offices were moved to the renovated former county jail at 605 S. 10th St. last spring.